Forty Below Bottle Boot
1.5 Liter size
Quick Overview
The Forty Below® Bottle Boot™ 1.5 Liter size is an insulating water bottle cover. It keeps water from freezing, especially in extreme cold environments. It is compatible with the German made Cold Weather Bottle 1.5 Liter. Please see below for additional information and specifications.
Description
Key Features Forty Below Bottle Boot 1.5 Liter Size:
Insulated Bottle Cover.
Fits the Hunersdorf 1.5 Liter Bottle.
Helps keep liquids from freezing in cold conditions.
Helps Keep liquids cool in warm conditions.
Low Profile Design.
Closed Cell Neoprene foam insulation.
No zippers to break or freeze.
Webbing belt loop with openings for use with other straps.
Velcro front closure.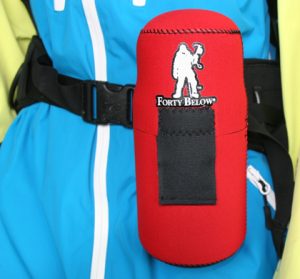 Product Photo Gallery:
Put the cursor over the picture to see the heading. Click on the picture to enlarge it and to view the full description. An arrow on the edge of the picture will enable forward and back movement through the set of pictures.
Forty Below Bottle Boot 1.5 Liter size:
Insulation: 1/4″ thick stretchy nylon covered closed cell foam (wetsuit type material). Same thickness completely around the bottle.
Size: ONLY fits the Hunersdorf bottle 1.5 Liter size. (If you have the "Nalgene 48 oz" . we have that size also, see link below)
Fits bottles up to 4 inches in diameter and 9 inches tall. Stretchy material so it can flex with different shapes of bottles.
Colors: Black, Blue, Red, Yellow, Pink, Green, Purple.
Weight: 5.5 oz (154g)