If you are coming to climb or travel around Mt. Rainier,
here are a number of resources available to check out to enhance your adventure.
These links are a collection of favorites that we like to use, and if you have any to add to this please contact us.
Visit Rainier www.visitrainier.com
This is the comprehensive Mt. Rainier area website with information about the Park along with local services and attractions surrounding the park.
Mt. Rainier Visitors Association www.mt-rainier.com
Based in Ashford, WA They are a wealth of information and links for many Mt. Rainier services and businesses in the Ashford Valley Area. Ashford is located at the SW corner Nisqually Entrance of the Park.
Mt. Rainier National Park Official Website www.nps.gov
Other helpful Rainier information websites:
Mt. Rainier weather: http://www.mountain-forecast.com/peaks/Mount-Rainier
Mt. Rainier webcams: Great site that has all of the Mt. Rainier ones, and many other local mountains:
http://www.skimountaineer.com/MtnWebCams/Rainier-MtnWebCams.html?size=med&telemetry=true
The Official Mountain Guide Services:
Alpine Ascents International www.alpineascents.com
International Mountain Guides www.mountainguides.com
Rainier Mountaineering Inc. www.rmiguides.com
LOCAL ATTRACTIONS:
Harmon Brewery and Pub in Tacoma WA. On the way to the mountain from Sea-Tac airport. This is a great place to stop on your way and fuel yourself up with some great food and brew! The theme is "outdoor recreation and skiing" with lots of antique outdoor equipment as part of the decor. They make delicious fresh tasting beer, winning numerous national awards, that is also served in the Longmire and Paradise Inn. Check out their Tab Room brewery location complete with an outside beer garden showcasing NW Hops, and the HUB restaurant, both located just a few minutes from the downtown Harmon location. Forty Below, Ltd is a proud sponsor of the annual Harmon Brewery "PRAY FOR SNOW PARTY" every November! Join us! For more information and locations, Visit their website at: www.harmonbrewingco.com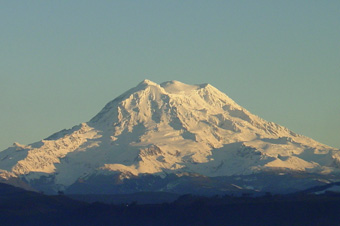 This view is facing east from our office window, (non telephoto) and you see the Tahoma Glacier in the middle right, Puyallup and Mowich glaciers in the center/ left. Liberty Cap on the top left and Point Success on the top right, Columbia Crest in the center/ summit. We may have a lot of rain in the Pacific Northwest, and we are thankful for it, so that we can have these beautiful glaciers to play on!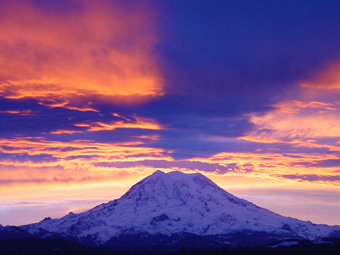 Here is one of our special sunrises, with the shadow of the mountain
pointing to the right.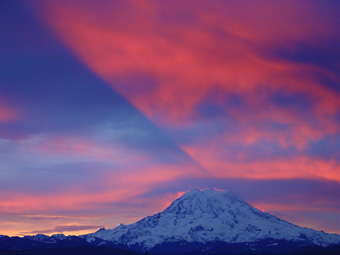 This page would not be complete without a shadow of the mountain
pointing to the left!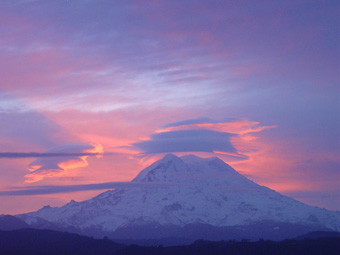 Here is one of those "red sky in the morning…" shots. We got quite a bit
of snow that day.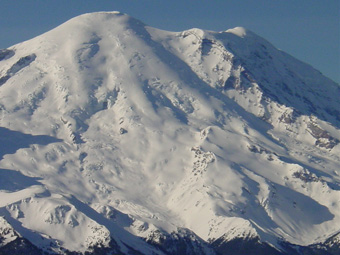 This is a view looking West at the Emmons Glacier, and Ruth Mountain/Glacier Basin on the lower right. Picture taken from Crystal Mountain Ski Area.