The Forty Below® Bottle Boot™ 1 Liter size is a high performance insulated bottle cover and holder that helps keeps water from freezing, especially in extreme cold environments.
It fits perfectly on the Nalgene 32 oz. bottles and the 40 Below Cold Weather 1.0 Liter Water Bottle. Our 6 sizes of bottle covers have been used on the world's coldest and highest places, since the 1970's!
Please see below for additional information and specifications.
---
---
Description
The Forty Below® Bottle Boot™ is the perfect insulating bottle cover for helping keep your water and beverages in a liquid state for all of your cold weather trips and expeditions!
This 1 Liter size fits Nalgene 32oz. bottles, the 1 liter 40 Below Cold Weather bottle, and many others.
We have been making Bottle Boots™ now for over 40 years! They have been used and trusted and on just about every type of outdoor trip, from winter day hikes to extreme cold and high altitude expeditions worldwide! This very insulating water bottle cover, is specifically designed to help keep water from freezing, and easy hold onto and open and close with gloves or mittens on. The low profile, non bulky design takes up less room in your pack and less bulk when on a backpack hip-belt.
Forty Below 1 Liter Bottle Boot is the perfect Nalgene bottle koozie cover, fitting the several 32 oz. bottle models, and also the 1 liter German cold weather bottles, plus 32 oz. sport drink bottles like Gatoraide and Powerade. They also help keep fluids cool in hot weather.
Our unique design enables the user to easily open and hold onto with mittens or gloves, with easy access to the bottle, and no zippers to break or freeze.
Key Features of the Forty Below® Bottle Boot™ 1.0 Liter size:
Fits most 1 Liter/32oz. quart size water bottles, such as Nalgene, German made Cold Weather bottle (Hunersdorf/KJS), Gatorade, Powerade, and others.
Easy to use with mittens or gloves.
Helps keep liquids from freezing in cold conditions.
Helps keep liquids cool in warm conditions too!
Low Profile Design.
Thick 6.5mm Closed Cell Neoprene foam insulation completely around the bottle.
Does not absorb water.
No zippers to break or freeze.
Webbing belt loop.
Velcro front closure with Grab-Tab.
Easy to hold onto with gloves or mittens on.
HANDMADE IN CANADA
Get some Forty Below® Bottle Boots™
and see how this outstanding product
can help you stay better hydrated
and more comfortable in the outdoors!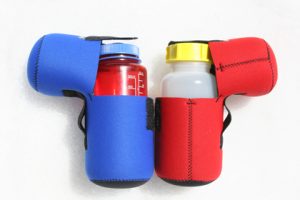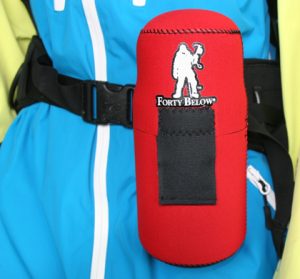 Here is a great link about our Bottle Boots™ in use at the great gear information site Syntax77.com Click on the link to see the informative video, the segment on the Bottle Boot and the German water bottle start at about 6:30 into the video: https://www.sintax77.com/winter-ultralight-backpacking-gear-list-2017/
Here are links to the 6 sizes of Bottle Boots™ that we make:
.5 liter/16oz.
.75 liter/24oz.
1.0 liter/32oz.
1.5 Liter
48 oz.
2 Qt.
Here is a link to the main Bottle Boots™ and related products page in our website:
https://40below.com/product-category/bottle-covers/
To find out more about our complete line of insulated bottle covers, and more information about helping keep liquids in extreme places, please see our All About Bottle Covers Section here in our website!
The Bottle Boot™ name is a declared Trademark of Forty Below Ltd, and is an original product that we invented, designed, manufacture, sell, (and use ourselves!) and has been used around the world since 1980. Any use of the name: "Bottle Boot" , "Bottle Boots", or the design of the product, or trade dress, is prohibited. www.bottleboots.com
© 2020 Forty Below, Ltd
Product Photo Gallery:
Put the cursor over the picture to see the heading. Click on the picture to enlarge it and to view the full description. An arrow on the edge of the picture will enable forward and back movement through the set of pictures.
Forty Below Bottle Boots 1 Liter in use:
Insulation: 1/4″ (6.5mm) thick stretchy nylon covered closed cell foam (wetsuit type material). Same thickness completely around the bottle.
Size: Fits most 1 Liter/Quart size water bottles, such as Nalgene 32 oz. wide and narrow mouth, Hunersdorf 1000ml, Gatoraide 32 oz., etc.
Fits: Bottles up to 3 3/4 inches in diameter and 8 1/2 inches tall. Stretchy material so it can flex with different shapes of bottles.
Colors: Black, Blue, Red, Yellow, Pink, Green, Purple.
Weight: 4.5 oz (126g)
HANDMADE in China